The Rotary Club of Encinitas Presents Food & Wine Festival for Charity This Weekend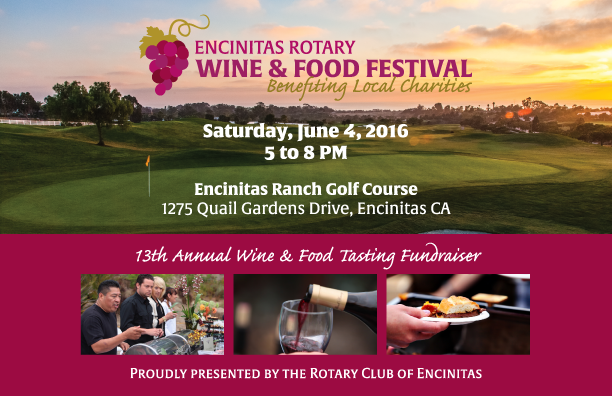 This Saturday, June 4th, the Rotary Club of Encinitas is excited to present the Encinitas Rotary Food & Wine Festival. The annual festivities feature a delectable sampling from fine restaurants, wineries, and breweries, along with live music, raffles, a silent auction, and beautiful atmosphere courtesy of the gorgeous Encinitas Ranch Golf Course. The lively affair is also a charitable endeavor: proceeds from the party go towards 18 children's and community charities, including local school programs, art collectives, museums, and many various profound causes. $60 of each $100 ticket sold directly benefits these programs.
Saturday's event is one that no foodie or connoisseur should miss. Learn more about the event in The Coast News' interview with the festival's co-chair, and explore the Encinitas Rotary Food & Wine Festival's website for sponsor listings, causes, and more information. Tickets are available here.